Dental Implants in 5 Easy Steps
Dental implants are the best solution for anyone who is missing one or more teeth or have teeth which are starting to fail.
Dental implants replace the tooth roots, which can then hold a single crown, bridge or denture in a similar way to which your natural teeth roots hold teeth. A single dental implant can support one or more replacement teeth – so you don't need to have one implant per missing tooth. Implants can be used in many ways. They can support full or partial bridges or a complete set of dentures. Your dentist will carefully assess how many implants are needed in your circumstances.
Dental implants are made of the metal titanium and have an internal screw which is called an abutment. This holds the false tooth or teeth in place. After the implant is fitted, the bone surrounding it gradually grows up and attaches to the implant, keeping it firmly in place.
Implant care is essential, and if you look after your teeth and implants correctly, they can last as long as your natural teeth.
The replacement teeth will often feel better than the original teeth, and if looked after proper you will wear these teeth until they wear out.
Deciding whether to have dental implants placed is a big decision, and many people do not know what to expect. Here is our step by step guide to dental implants.
1. Evaluation and Planning
Your dental implant treatment will begin with a thorough dental examination. Your dentist will take X-rays and CT scans which will allow us to see the current condition of your mouth, discuss the option available and make a plan for moving forward. We will also use advanced 3D planning of your dental implant treatment, which means fewer appointments, maximum precision and quicker recovery time.
2. Setting the Stage
Dental implants have an excellent success rate, up to 98% with proper care. But they must be given the best possible conditions to remain healthy and last a lifetime. To reduce the risk of infection and implant failure, they need to be placed in a clean, healthy mouth. Therefore, we will perform any other required dental work, such as dental hygiene, fillings or root canals before starting your implant procedure.
3. Extraction / Bone Grafting (if needed)
Dental implants replace teeth roots, so any failing teeth must be removed prior to the dental implants being placed. Tooth extractions are a simple procedure that involves only using a small amount of local anesthetic. For nervous patient patients or those with more complicated extraction needs, different types of sedation are available to make your extraction more comfortable.
Bone loss after the removal and loss of teeth for some people can leave them without enough bone to secure an implant. Dental implants are anchored in bone, so it is essential that we have enough good quality bone in those areas in which we are planning to place implants to hold them in a stable.
If your jawbone isn't thick enough or is too soft, you may need bone grafting before we can proceed with the dental implant surgery. Your teeth experience extreme pressure, especially when you chew. The jawbone and gum tissues need to be strong to support the new dental implants and ensure lifetime success of your treatment. A bone graft will create a more robust base for the implant and is usually done at the time of extractions. This is a simple procedure, but it will require a few months of healing before the new bone is healed and ready to accept the implant.
In bone grafting, a piece of bone is removed from another part of your jaw or your body and transplanted to your jawbone. Another option is to use artificial bone to place in these areas. In some cases, you may need only minor bone grafting, which can be done at the same time as the implant surgery.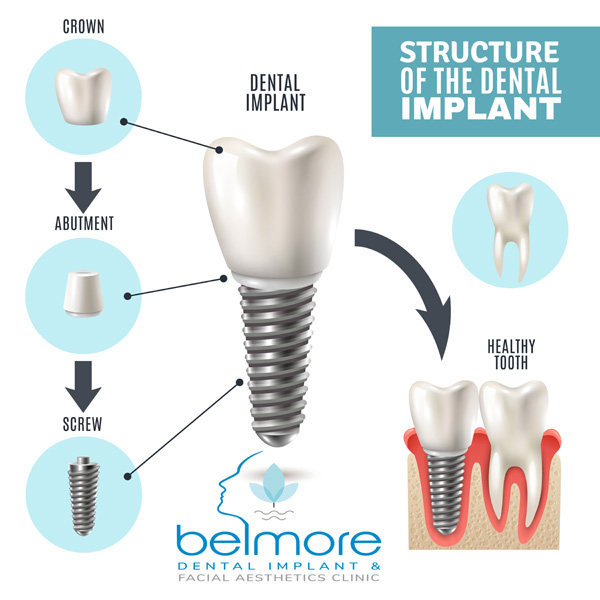 4. Implant Placement
Placing a dental implant is a precise but straightforward procedure that is usually performed under local anesthetic and is completely pain-free. You may feel a little pressure throughout the surgery and after the local anesthetic wears off some mild discomfort. This can be easily controlled with over the counter painkillers and anti-inflammatory medications.
Once the implant is secured within the bone, and the gum tissue replaced you might receive a cover screw or healing cap. The cover screw is flat and protects the implant until it is ready for the abutment, or the piece that attaches the implant to the crown. A healing cap is shaped similarly to an abutment, allowing your gums to heal in the proper contour.
5. Abutment and Crown
Once the implants have healed securely within the bone the healing caps or cover screws will be removed, and an abutment will be attached to the top of the implant. Healing may be as little as a few weeks or as long as several months depending on your situation.
Depending on whether you're replacing a single tooth or multiple teeth, either a crown, bridge or implant retained denture will be fitted on top of the abutments.