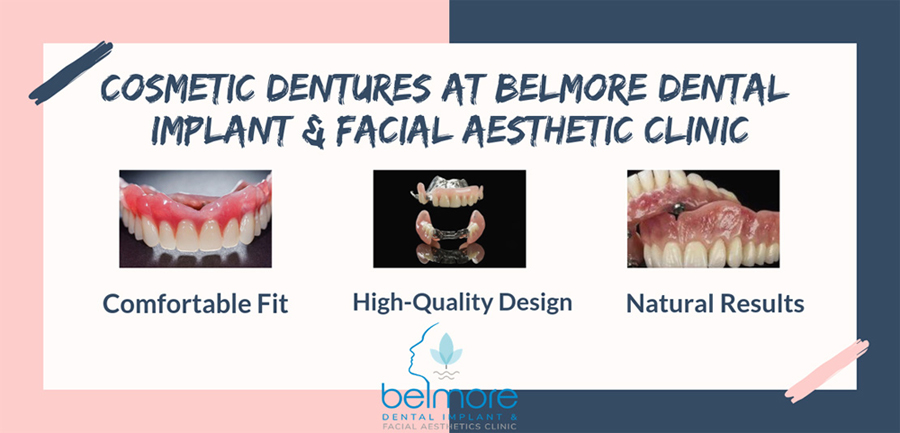 Tooth loss can occur for many reasons. You could have a tooth knocked out in an accident, or they may be lost due to old age. Whatever the reason we recommend that you get your teeth replaced as it can lead to a wide range of problems including eating, speech, swallowing, and may cause further wear and tear on your remaining teeth.
Tooth loss also has many adverse effects on your self-conscious. Your teeth give structure and support to the cheeks, and when teeth are lost sagging of your cheeks can occur giving an aging effect.
If you can answer yes to one or more of the following, then you might benefit from visiting our expert team at Belmore Dental Implant Clinic and discuss the range of denture options available to you.
Feel embarrassed or self-conscious about your current denture?
Is your current denture preventing you from eating the food you like?
Are some or all of your natural teeth loose?
Are you looking for a long-term solution to failing or lost teeth?
Do you have failing crowns or bridges, gum disease are worn teeth?
Cosmetic Dentures Available at Belmore Dental Implant Clinic
At Belmore Dental Implant Clinic we use only the highest quality materials to create your denture and ensure the best results with a comfortable fit. Each case we see is a unique challenge for our dentist and we offer a wide variety of denture designs which gives our dentists the flexibility to tackle any situations and create a denture specifically for your needs.
We take the time throughout your treatment to ensure you get the look you want, should it be a cosmetic makeover giving you straight white teeth or a more natural look with some worn or uneven edges. Whatever you think looks good, we can create it. And if you're not sure we will happily advise you on what we think will work best.
Dentures can be made from an acrylic plate or a metal framework which sits over the soft tissues of the mouth. You can also replace all the teeth using a full denture or just some of them using a partial denture.
Here are some consequences of tooth loss:
Problems speaking
Unable to eat and chew certain foods leading to nutrition problems
Social embarrassment and fear of smiling
Jaw stiffness and problems with relaxation.
Weakening and movement of other teeth
Types of dentures
Partial Denture – This is used when a person has some natural teeth remaining. The denture slips between the missing teeth and fills any spaces. Partial dentures can be made from either a plastic called acrylic or a metal called chrome cobalt.
If all the teeth are missing, a full or complete denture is placed which can also be made from a plastic or metal base. Complete dentures can be made conventionally or placed immediately. Conventional dentures are made once the teeth have all been removed and the gum tissue has healed for approximately eight to twelve weeks.
Immediate dentures are made before the teeth have been removed and placed as soon as the extractions have taken place. One of the benefits of immediate dentures is that the wearer does not have to be without teeth during healing. Unfortunately, bones and gums shrink over time following an extraction and an immediate denture will soon become loose and require adjustment.
How are dentures held in place?
Upper dentures are held in place by suction, saliva acts as a seal and along with the muscles of the cheeks help to hold the denture in place.
Lower dentures are mainly held in place by gravity along with the muscles of the cheeks and tongue.
How do I look after my denture?
All dentures whether partial or full dentures require proper care to ensure they remain clean, free from staining and look their best.
Always try to remove your denture after eating and rinsing it under running water to remove food debris and other loose particles. Try to place a towel on the counter or in the sink so if the denture slips and falls it won't break if you drop them.
After removing your denture clean your mouth. If you have natural teeth remaining, use a soft-bristled toothbrush to clean away food debris and plaque. Soft gauze can also be used to clean your tongue and palate.
Scrub dentures. Avoid stiff-bristled brushes, abrasive toothpaste and strong cleaners. Gently clean your dentures with a soft brush and denture cleaner, mild soap or dishwashing liquid.
Do not bend or damage the plastic or the denture clasps when cleaning.
Soak overnight to help dentures keep their shape. Dentures with metal attachments should not be soaked in cleaning solutions which contain chlorine as it may tarnish the metal.
Rinse before placing them back in your mouth.