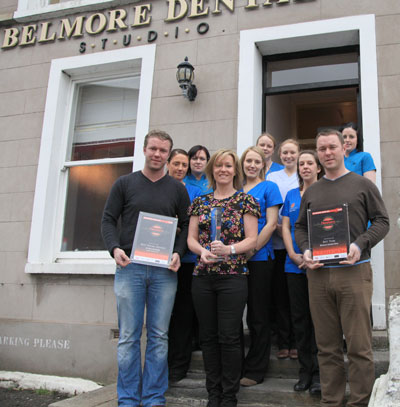 Posted on 24 July 2012
Belmore Dental Clinic, Enniskillen, has achieved outstanding success at the recent National Dentistry Awards, winning the overall best UK dental team. On the night, held at the Athena Convention Centre, Leicester, the Clinic's Rory McEnhill picked up the award for Best Young Dentist NI with the practice also taking the Northern Ireland Team of Year.
On accepting the top UK award, Practice principal, Sinead McEnhill, said," these awards are a wonderful reward for all the hard work and effort that has been undertaken over the years. The practice has an unyielding commitment to providing high quality dentistry and maintaining clinical excellence. All team members strive to develop and extend their skills to allow our patients to receive the most up to date dentistry, and provide it in the most stress free and caring manner; client care is our priority
"It is a massive achievement for a team in Northern Ireland to gain such an accolade and it is especially satisfying to know that we are being recognised by our peers for excellence in dentistry. This elevates Belmore Dental Clinic into the pantheon of high quality UK award winning establishments. I am also very proud for Rory to have been recognised for his active interest in staying at the top of the profession."
2010 has been a monumental year for the practice. Whilst also busy with daily workload, the team undertook a hugely successful programme of charitable events, raising £55,000 for Horizon's West Children's hospice and Children's Heartbeat . Four of the team also ran the Paris marathon on the charities' behalf.
---